This post originally appeared on the Jude3 Project's blog. The Jude3 Project is an EveryCampus partner dedicated to helping the Christian community know what they believe and why they believe it. Distinctive in its strong emphasis in equipping those of African descent in the United States and abroad.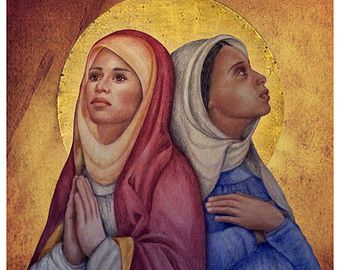 By: George Moore
"Black history is church history because we have been a part of God's church since its inception." – Damon Richardson
Church history can teach us about the rich legacies that our African Church fathers and mothers left behind. Their scholarship, courage, and faithfulness can still leaven an impact on the church today. One story in particular, that stands out, is about out two African women from the 3rd century: Perpetua and Felicitas.
Background
At this point in history, civil war is a threat to Rome and to appease all sides, Emperor Septimius Severus seeks to promote religious harmony. Historian Justo Gonzalez writes that Severus' plan was to embrace syncretism by allowing "…all gods were to be accepted as long as the acknowledged the "Sun" that reigned above all [Sol Invictus]."[2]
As the emperor's policy is enacted, it clashed with the monotheistic beliefs of Christians. Believing their worldview would hinder his plan for unity, "Severus decided to stop the spread…and thus outlawed, under the penalty of death, all conversions to Christianity…"[3]
It is during this time two new converts, Perpetua and Felicitas, enter our scene. Though these amazing women eventually become martyrs, their death inspired the early church for centuries.[4]
Here is their story.
Perpetua
Perpetua came from an affluent and pagan [unbelieving] family. By the age of 22, she was already a young wife, with an infant son. This rich, educated, and strong African woman, was thrown into prison, along with Felicitas, for violating the emperor's religious policy.
While in prison, Perpetua has a series of visions and defies her father's pleas to turn away from her newly found faith. Resisting her father was extremely counter-cultural, especially in a society where children were to esteem the male patriarch highly. This meant that if the father exhorts his son/daughter to turn away from something for the sake of the family, they were expected to do so. Yet, Perpetua resisted him…FOUR TIMES (the same number as her visions)!! Though she grieved the pain it caused him, she knew her allegiance to Christ mattered most.[5]
In the end, Perpetua welcomes her fate. She gives her baby son to her father and marches into the arena of Carthage (North Africa), awaiting martyrdom with her four friends (Felicitas included). She is placed in the arena and proceeds to be hit and thrown around by a raging cow, before a cheering crowd. Like the dignified lady she was, she stands up and asks to "retie her hair, for loose hair was a sign mourning, and this was a joyful day for her."[6] With her and Felicitas together, they say goodbye to one another as they die by the sword. Perpetua in true honor, guides the blade herself, as one eyewitness put it, "Perhaps so great a woman…could not otherwise be slain except she willed it."[7]
Felicitas
Like Perpetua, Felicitas, was a new convert to Christianity, but her social status was a slave. For clarity on Felicitas' life, we must discuss Roman slavery. A large part of Rome's population were slaves. Many became slaves as a result of being prisoners of war (POW), or individuals selling themselves into indentured servitude so that they or their families could be provided for. We don't know what made Felicitas become a slave, but what we do know is that female slaves were at the bottom of society.[8] In fact, the female slave was seen as a symbol of defeat and despair.[9] Furthermore, a female slave could be anything from a secretary to a prostitute.
This is what makes the story of Felicitas so inspiring but also counter-cultural. Despite what the Roman world may have thought about her status, the church esteemed her. Where Rome saw her as a symbol of defeat and despair, even calling her newfound faith one for the lower class[10]…the church saw her as hero to be praised for generations.
Eventually, Felicitas goes to prison and while she awaits her death, she gives birth to her daughter prematurely.[11] She purposely goes into early labor for a few reasons[12]:
Rome didn't execute pregnant women.
If a mother that was sentenced to death and her baby went to full term, then the mother was executed as a common criminal.
By going into early labor she ensured dying a martyr with her family.
This strong woman purposely did this so that she could be martyred with her fellow brethren. In the midst of her gruesome labor, one of the Roman soldiers taunts her by saying, "You who are in such suffering now, what will you do when you are thrown to the beasts, which you despised when you refused to sacrifice [to other gods]?"[13]
She responds with a radical declaration, "Now it is I that suffer what I suffer; but then there will be another in me, who will suffer for me, because I also am about to suffer for Him."[14]
In one statement, she turns the Roman soldiers words on its head. Where he thought she would die a worthless criminal, she affirmed that she will die for the one who purchased her salvation.
Why Their Story Matters
One of the goals of black Christian apologetics is to show that Christianity is not the "White Man's Religion." An effective way of doing this is for the church to unlock the vault of history and share the testimonies about people of color, like Perpetua and Felicitas.
Their story matters. Stories of black and brown people matter. The stories of black and brown women of faith matter. These women were willing to die for the Savior who gave them eternal life and their testimony has echoed throughout time. History calls their account the Passion of Perpetua and Felicitas and it is one of four documents written by Christian women in the ancient world that has survived to this day.[15] Additionally, many scholars believe this writing to be "one of the earliest" Latin text written by a woman."[16]
These women showed how the Gospel is able to penetrate and remove barriers of gender, class, and cultural norms as they saw one another as neither "Jew, Gentile, slave, or free…but Christ is all and in all."[17] Neither of them leaned on their social status (or lack of) as they pledged allegiance to the God who made them in His image[18], courageously awaiting the death predestined for them.
In the end, these strong, black women stood tall, declaring their faith in a Kingdom not made by human hands.[19] By resisting an empire, they proved themselves to be counter-cultural and stood up to religious oppression. These women are shining examples of what authentic, gender-empowered, Jesus-loving, courageous faith looks like. My prayer is that more stories like these are shared with the world so that we can all see the deep, strong roots displayed by our African church fathers and mothers who came before us.
Let's continue sharing their legacy!
Notes:
1. Damon Richardson. "Church History is Black History." Feb. 8, 2021. https://www.facebook.com/100000287422987/videos/4060309630655244/
2. Justo L. Gonzalez. (The Story of Early Christianity Vol. 1: The Early Church to the Dawn of the Reformation. Broadway, New York: Harper Collins, 2010), pg. 97.
3. See Gonzalez, pg. 97
4. Elizabeth Isichei. (A History of Christianity in Africa: From Antiquity to the Present. Grand Rapids, Michigan: Eerdmans Publishing, 1995), pg. 34.
5. Lynn H. Cohick and Amy Brown Hughes. (Christian Women in the Patristic World: Their Influence, Authority, and Legacy in the Second through Fifth Centuries. Grand Rapids, Michigan: Baker Academic Publishing, 2017) pg. 52.
6. See Gonzalez, pg. 99.
7. See Isichei, pg. 35.
8. Lynn H. Cohick. (Women in the World of the Earliest Christians: Illuminating Ancient Ways of Life. Grand Rapids, Michigan: Baker Academic Publishing, 2009), pg. 257.
9. See Cohick, pg. 257.
10. See Gonzalez, pg. 64.
11. Passion of Perpetua and Felicitas, Chapter 5.
12. See Cohick (Christian Women…), pg. 57.
13. See Passion…, Chapter 5.
14. See Passion…, Chapter 5.
15. See Isichei, pg. 34.
16. See Cohick (Christian Women…), pg. 35.
17. Galatians 3:28; Colossians 3:11
18. Genesis 1:28; Acts 1:26
19. John 3:3-8
George Moore currently serves as Research Intern for the Jude 3 Project. He is from Memphis, TN and is pursuing his Masters of Divinity at New Orleans Baptist Theological Seminary.