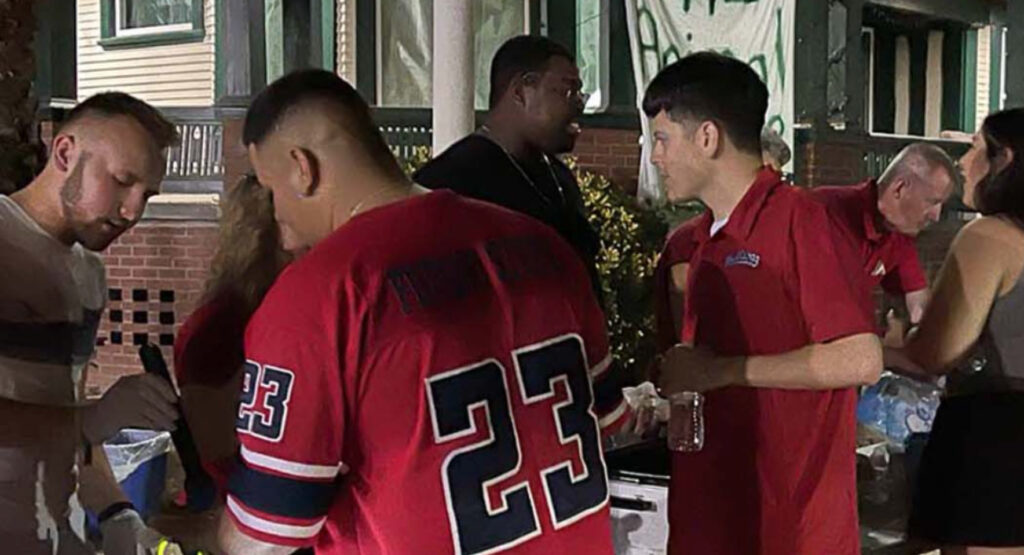 This post originally appeared on CCO's website. To read the original article, click here.
The first week, they remembered the hot dogs but forgot to bring chairs.
So after the middle-aged church members, together with CCO staff member Geraud Brumfield, set up their table on a sidewalk in Greek Row, they hovered nearby, uncertainly. It was just after 10 at night and Fresno State University students were milling about, checking out the different parties. As the church volunteers smiled invitingly, a few students approached the table and came away with a hot dog. It was a start, but a slow one.
Then a young man approached. "We've been watching you from the house," he said. "Do you need some chairs?"
He introduced himself as the president of the nearest fraternity, and after some conversation, invited them to come back anytime.
"And let us know if you ever need anything."
So the church team—a campus ministry-focused small group from First Presbyterian Church, Fresno—returned to this same sidewalk, in front of the same fraternity house, for every home football game that fall.
Soon, students were lining up for hot dogs. Someone from the church had a portable fire pit and asked if they could set it up on the lawn, and it quickly became a gathering spot for conversation.
Someone else thought to bring glow stick bracelets, and the students loved them. "At some point in the night, they're going to take the bracelet off," Lisa, a member of the team, explains. "And maybe they'll remember, 'Hey, this was from people who care about me.'"
And soon the church team would have the opportunity to show deeper care. Over Christmas break, an accident occurred in the fraternity house. The brothers faced immediate suspicion and condemnation, even before all the facts were known. When the church team found out, they reached out, offering listening ears and prayer.
Jamie, another team member, says, "It was really a great privilege to be available to them at a time when they were vulnerable." One student asked them to come and pray over the room where the accident occurred.
For the rest of the year, even as many people turned their backs on the fraternity brothers, the church members invited them over to their homes and sent encouraging notes and texts.
Almost a year later, Jamie's wife, Mindy, sent a letter to one of the students, and he responded, "Your letter really, really, really meant a lot. My dad always said, 'You know who your real friends are when you are at your lowest. They are the people who are still there with you.' So many people left us, but you and your group were there, with us, the whole time. You are the real thing."
The church team continued to connect with the fraternity brothers as well as they could in 2020. For a while there were no hot dogs, but last March, together with CCO Fellow Rhonda Payne, the church invited the brothers to watch a talk from the virtual Jubilee conference on the fraternity's front lawn. Six young men came, including the new fraternity president, who asked afterward if he could watch the other three mainstage talks.
This was especially encouraging because the pandemic made it hard to get to know new students. Now there are football games again, and sometimes the church members wonder:
"Will they still want us there? Will we be welcomed one more time?"
So after they load up their cars with chairs and folding tables, extension cords, mini-chocolate bars, cases of water, and 180 barbecue hot dogs in a roasting pan, the team members gather to pray—just as they always have. Then they drive to campus just before halftime, listening to the local Fresno State football announcers calling the game as they approach Greek Row. They find a place to park and get out of their cars.
And once again, the students greet them warmly.
"It's like this," Geraud says. "Even five years in, we have doubts. But God doesn't."