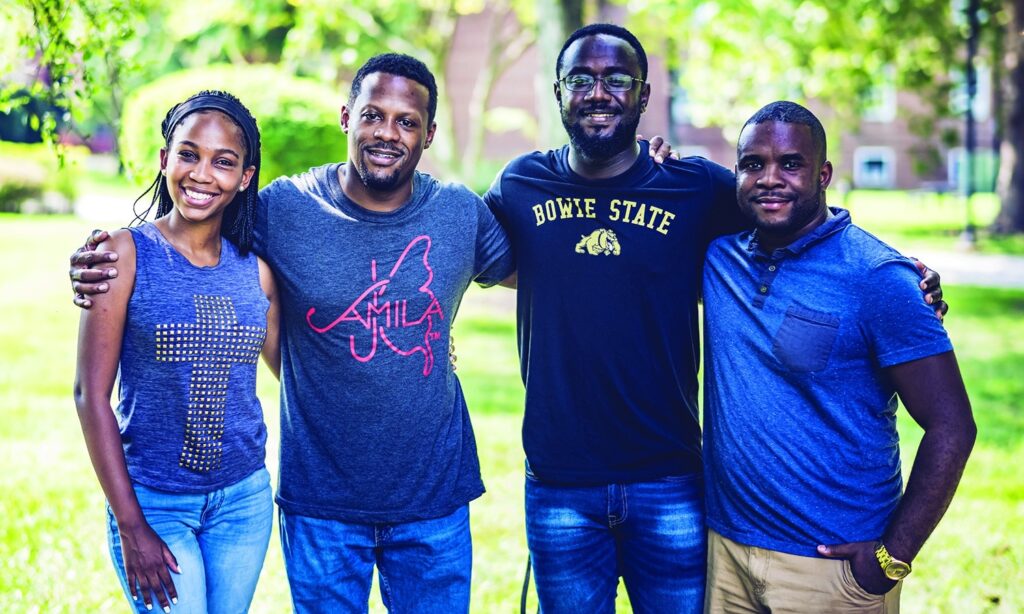 This article originally appeared on the blog of EveryCampus partner, The Navigators
When Daniel started college as a student at Bowie State University, he found his purpose and identity in athletics. He was part of the track team. Then he injured his hamstring and couldn't run track anymore. He struggled with questions about purpose in his life and was depressed.
"I realized I needed to make some changes in my life," shared Daniel. "I was caught shoplifting, and it hit me how far I had drifted. I realized that I needed to seek after God. I had been raised in a Christian home, but I had focused on sports rather than God. I asked a friend about the Bible study he attended. I decided to join the Bible study, which was sponsored by The Navigators, and there I met Osaze Murray, who was with Navigators Collegiate at the time. He became a mentor, friend, and discipler."
Osaze had been discipled as a student at Howard University by long-time Navigator Eugene Burrell. After graduation, Osaze did additional training and an internship with The Navigators, then went to graduate school. After finishing grad school, Osaze helped start The Navigators ministry at Bowie State. "From the start, I realized that students needed to know that we cared about them as people," said Osaze. "That caring had to go beyond just their participation in Bible study and Navigators events to invest in their everyday lives."
Life-to-Life® Discipleship Ignites on Campus
"In my time with Daniel, we would explore all the emotions of life—grief, sadness, and anger. He was eager to grow. Daniel was the first student at Bowie State to step up as a student-leader. We offered a structure so there were ways for students to step into leadership and grow."
Going back spiritual generations from Eugene Burrell discipling Osaze and now Osaze investing in Daniel helped Daniel realize it wasn't just for his benefit. "God ignited something in me, and I wanted to pass it along to others," Daniel said. Now Daniel is on staff with Navigators Collegiate at Bowie State, investing in the next generation of students. He leads a small group of young men and encourages them to grow in their walk with the Lord.
How Discipleship Leads to Personal Transformation
Jhori's path to involvement with Navigators at Bowie State was different than Daniel's. She got involved right away during her freshman year—connecting with Navigators during freshman move-in. She grew as a disciplemaker throughout her years of college. After graduation she joined EDGE Corps (Navigators Collegiate internship) to serve on the Bowie State campus.
"Being able to disciple women at Bowie State has been pivotal in my own transformation," Jhori shares. "I have been able to grow along with these women and I have a fire for the next generation."
Jhori led a Bible study and now has passed on the baton to the next generation of young women to lead at Bowie State. She is moving into next steps in her career and is praying that God will use her in the workplace.
Jimmy, who is the interim Campus Director at Bowie State, describes how Osaze set up the next generation of leadership. "Osaze stepped back enough to say, 'God is going to fan Jimmy's flame in a way that is different from Daniel's flame, and others.' He definitely set us up in leadership, passed the baton, and he believes we can take it the next couple of laps."
Now Osaze is the Director of Staff Training nationally for The Navigators. It is exciting for him to see Jimmy and Daniel leading the campus ministry at Bowie State:
"Now when I go to an event on campus, I don't know any of the students. This next generation of students involved with The Navigators at Bowie State are all a result of the leadership of Jimmy, Daniel, Jhori, and others."
This process of igniting the flame of faith, and developing skills to disciple disciplemakers, is what creates generations of disciplemakers. As one generation reaches out to the next, and the next, a movement is created and continues. Those who come to Bowie State next fall and meet Jesus will be the result of the faithfulness of men like Eugene Burrell, whom they will never meet. Eugene passed away in 2021, after decades of service with The Navigators at Howard University. But his legacy lives on in the next generation of disciplemakers, from life to life to life …
Watch the full story at navlink.org/bowie