This article was originally published on CCO's website on March 24, 2023.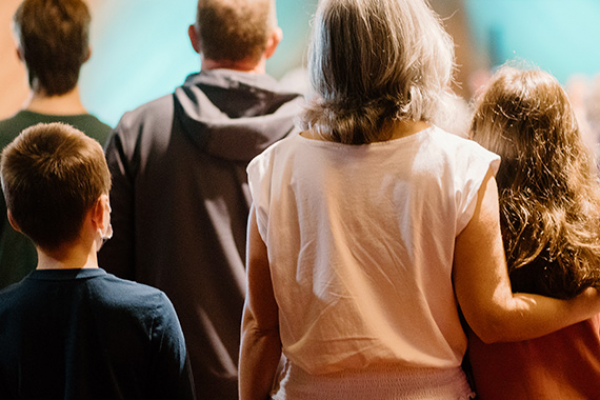 After introducing the five college students who would live in the church's discipleship house for the year, CCO staff member Dan Terracciano asked the members of Lincroft Bible Church (LBC) to greet them after the worship service. But when the service came to an end, church member Karen McKenna paused.
It wasn't that she didn't care about young adults—she did, deeply. It was just that her experience with her two teenage daughters had planted some doubts in her mind.
"I'm an old lady," she laughs. "And the older my girls get, the more I know it!"
Fortunately, her third daughter-then about eight years old-didn't have the same hesitations. "Mom, I've got to go meet them!" Caleigh announced, dragging Karen to the foyer. "And then they became her best friends," Karen remembers.
The church has invited groups of college-aged men to live in the old church parsonage-the "Mission House"-since 2011, for an annual program of Christian formation and mentoring. As LBC members witnessed the transformation of these young men, they aspired to reach young women as well.
Fortunately by this time, Karen had followed her daughter's lead. "Her love for meeting and getting to know the Mission House guys each year made me more diligent about doing the same," she says.
So when Karen was invited to help reach out to college-aged women, she readily agreed.
Other women from the church were also stepping up. Joelle, a long-time campus ministry volunteer, organized a two-week summer intensive program for young women. Families hosted college students who needed a safe place to live. And when CCO Fellow Julie Deibert invited women from the church to participate in a mentoring program-complete with a four-month curriculum-seven mentoring pairs were formed.
"It's funny, because I see this dynamic where younger women want to be mentored, but older women feel like they don't have the ability to mentor," a volunteer named Linda observes. "They think the younger women don't want to be with them. This is absolutely not true."
Since 2021, LBC decided to run an eight-week summer discipleship program for young women in the Mission House. Church members, including Karen and Linda, were asked to teach on various topics and many also spent one-on-one time with participants.
Lauren is a young woman who lived with a church family and then participated in the summer program. "You think people older than you have it all together, but then you see them being vulnerable and that being okay," she says. "It's like you've got living, breathing representations of what it means to live an ordinary life and serve Christ with all of it."
Lauren is now discipling another college student, and she also gets to be that living example for someone else—Karen's daughter.
Karen's outreach-oriented daughter is now twelve and wants to be a writer. For a few months, she brought Lauren a new chapter of her book every week, and they developed a close friendship. For Lauren, this is a joy and an honor.
"It's really cool to see the impact that you can have on younger believers, just in the little mundane things," Lauren says. "That's the way so many people at LBC love each other—like a trip to the grocery store or a check-in text or a short Scripture verse or a 'Let's go grab coffee.' Oftentimes, those little initiations are exactly what someone needs."
This is the body of Christ at work-from one generation to the next.