Priority Campus List*
EveryCampus is providing a priority campus list for ministry planning purposes. This list contains campuses that have a student population greater than 1,000 in most cases.
Since this list uses filters to show the data in different ways, you will note an actual total of 2576 campuses when viewing the list unfiltered. When using any of the filters, the cell numbers corresponding to the campus will always be the same. So if you use a filter to view InterVarsity campuses only, you will still see the last campus in cell 2,572 – yet the total campuses on display are 749.
---
Current Filter Options
---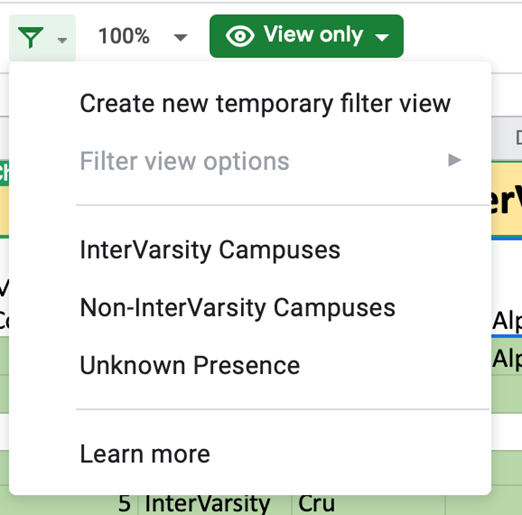 Then there are three filter options:
InterVarsity Campuses (the list filtered to show just the campuses InterVarsity has a presence on – 749 campuses)
Non-InterVarsity Campuses (All campuses that InterVarsity is NOT currently on – 1,827 campuses)
Unknown Presence (the campuses filtered to show campuses that have

no known presence

– 835 campuses)
---
---
Color Coding
---

Current color coding is based on InterVarsity presence.
Red for no known ministries
Green for campuses InterVarsity has presence
And no color for non-InterVarsity ministry presence
---
About the Columns
---
There are many columns to view the data. Below is some basic information about what is contained in the columns,

A – number of known ministries on a campus
B – InterVarsity presence (the Campus Ministry columns have the ministry name in the cell if there is a presence there)
C – Cru presence
D – Navigators presence
E – Baptist Collegiate Ministry Presence
F – Unique ID given to each campus by our data partner, Gloo, for indexing and insuring unique mappable results.
G – The InterVarsity main account name for that campus
H – The Gloo/EveryCampus account name equivalent
The following columns are extra details about the campus that are available but may be less valuable – until you get to the HBCU / Nursing program columns. Currently, we do not have significant reliability on other statuses (such as HSI, Tribal Colleges, GFM, etc.)

Do you have a comprehensive focus ministry list or list of HSI, Tribal Colleges, or another data point to try and integrate? Submit the form below with a note and we will contact you for details.
---
Note About the Data Source
---
The Priority Campus List is based on a list from InterVarsity Ministry Intelligence of the 2,500 InterVarsity priority campuses. This list was was then cross-referrenced with the EveryCampus master list to show the known ministry presence (both in count and by name for a select ministries at this time).
Columns A – F and H are EveryCampus/Gloo data points

Aside from these columns, the rest are InterVarsity data
If you have feedback or would like to set a one-on-one appointment to review this data, please submit this form and check the box to schedule an appointment.
---
---
*Generally campuses with more than 1,000 students. May incluce some campuses with fewer than 1,000.